The iPhone 12 is finally official, and it was unveiled alongside the new iPhone 12 mini, iPhone 12 Pro and iPhone 12 Pro Max during the company's virtual October event.
So what do we know about the new iPhone? Almost everything we will do before the iPhone 12 release date, which is set for October 23. You'll be able pre-order the phone from today at 5am PST / 8am EST / 1pm BST / 11pm AEDT.
The company has confirmed that the whole range of iPhone products in 2020 will be 5G-ready, allowing you to enjoy super-fast download and browsing speeds on your phone.
All four handsets feature a new design, including new colors, and there are a variety of changes to the camera on the rear, the power inside each phone and other features.
Below we'll run you through everything we've learned about the new iPhone 12 including its price, release date, specs and the new features that Apple has shown off so far.
Want to know about the top-end phone? Here's the iPhone 12 Pro
There's also a smaller phone, and it's called the iPhone 12 mini
Each phone compared: iPhone 12 vs iPhone 12 mini vs 12 Pro vs 12 Pro Max
iPhone 12 key facts
What is the iPhone 12? The new phone from Apple
When is the iPhone 12 release date? Pre-orders open now, out October 23
What will the iPhone 12 cost? Starts at $799 / $799 / AU$1,349
iPhone 12 release date and price
The iPhone 12 release date is set for October 23, and you're able to pre-order the phone directly from Apple and multiple other details now.
You won't be able to pre-order the iPhone 12 mini until November 6, and the phone will be out on November 13.
Apple has confirmed the iPhone 12 price will start at $799 in the US, which is $100 more than the iPhone 11 range. That's likely because of the introduction of 5G technology.
What will the phone cost in your market? We have the iPhone 12 prices for the US, UK and Australia below.
| Region | 64GB | 128GB | 256GB |
| --- | --- | --- | --- |
| US | $799 | $849 | $949 |
| UK | £799 | £849 | £949 |
| AU | AU$1,349 | AU$1,429 | AU$1,599 |
In the US, you'll be able to get the device on AT&T, Sprint, T-Mobile and Verizon. Those in the UK will be able to buy from EE, Vodafone, O2, Three and a variety of other networks too. We don't currently know what carriers in Australia will support the phone.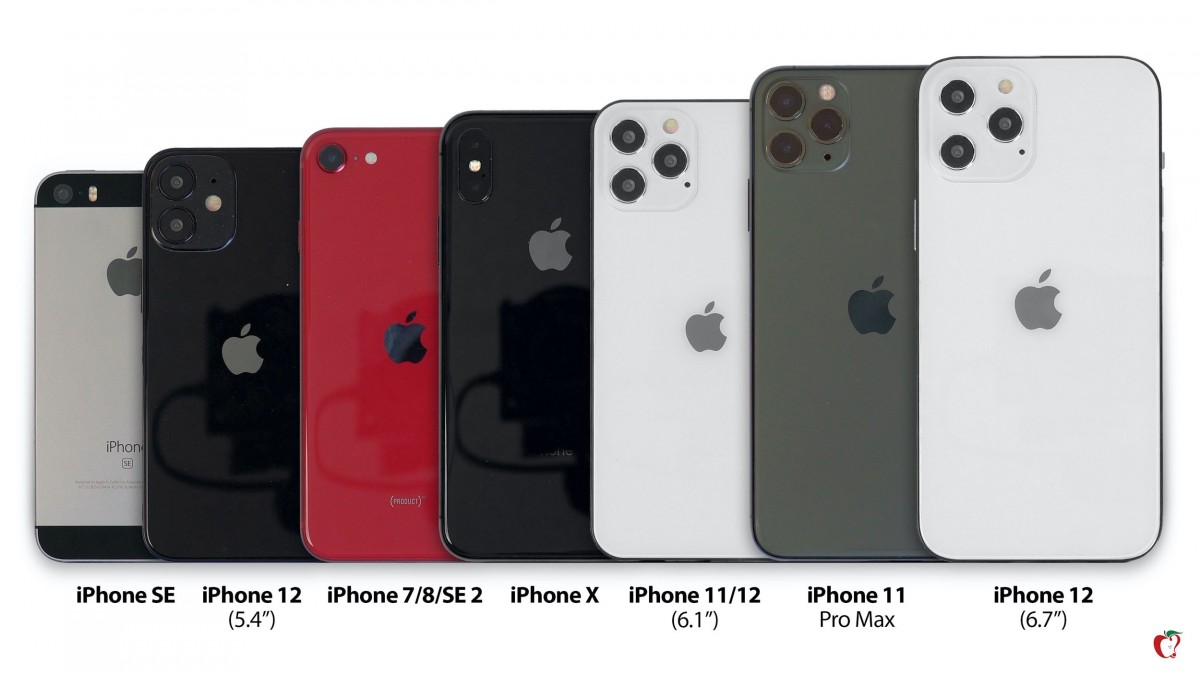 iPhone 12 design and display
The new iPhone 12 features a 6.1-inch display size with a notch at the top of the display. It seems to be the same size notch that we've seen on recent iPhone products.
If you're after a phone with a smaller display you'll be interested in the iPhone 12 mini, and you can read all about that phone in our iPhone mini release date and price article.
The iPhone 12 comes in five colors: black, white, red, green and blue. You can see all those shades in the picture below.
There's an aluminum frame around the outside of the iPhone 12, and the edge looks to be less rounded than on recent iPhones – it's more reminiscent of the iPhone 5S, rather than the iPhone 11 with its rounded corners.
The rear of the phone is made of glass, but Apple was keen to make it clear that this phone is tougher than previous iPhones. It's using a new technology on the front called Ceramic Shield, which it says will ensure your screen is a lot more durable.
How does this work? Corning, the company that makes this shield, has said it's a new material with nano ceramic crystals embedded in the glass that makes a material that looks like glass but has similar strength properties to ceramic.
This doesn't mean you should be throwing your phone around though, as it's unlikely to shield your device from all serious knocks or drops.
The iPhone 12 is 11% thinner, 15% smaller and 16% lighter than the iPhone 11. That means it has dimensions of 146.7 x 71.5 x 7.4mm, and it weighs 162 grams.
That 6.1-inch screen is a Super Retina XDR display, and it has double the amount of pixels as the iPhone 11. It also has a 1200-nits peak brightness, which should mean you'll get a brighter display than on previous iPhones.
As with previous iPhones, the iPhone 12 is IP68 water and dust resistant. There are volume buttons on the left side of the phone, with a silence switch just above those, while the power button is on the right side.
The right hand side of the phone features a small indent below the power button too, which is a 5G antenna so the phone can connect to networks through its aluminium frame.
A deep dive into the iPhone 12 colors
iPhone 12 5G and specs
The iPhone 12 is 5G-ready, which means you'll be able to connect to next-gen internet networks from your iPhone for the very first time.
This is now a common feature on flagship Android phones, but this is the first time we've seen 5G on an iPhone.
The company has also confirmed that the 5G tech here is both sub-6 and mmWave, meaning the iPhone 12 will work on Verizon networks in the US. In other markets it'll also use sub-6 technology, so it should work with all carriers around the world that provide 5G connections.
The iPhone 12 5G speeds can theoretically reach 4Gbps, but realistically, we've seen around 1.4Gbps from Verizon's high-frequency mmWave technology in the US, and around 300Mbps from other carriers that use sub-6 technology. While mmWave is incredibly fast, it has a much shorter range, whereas sub-6 will see your iPhone 12 get 5G at greater distances from antennas and it'll actually remain fast indoors. Another element is there's a Smart Data mode that assessing whether you need 5G speeds and can switch you back to 4G if it doesn't think you need them. If that's the case, your phone can then save battery by not connecting to the 5G network. It's a smart idea, and we're excited to see how it works in practice.
IPHONE 12 SPECS
Weight: 164g
Dimensions: 146.7 x 71.5 x 7.4mm
Display size: 6.1-inch
Resolution: 2532 x 1170
Refresh rate: 60Hz
Pixel density: 460ppi
Chipset: Apple A14
RAM: N/A
Storage: 64GB / 128GB / 256GB
Rear cameras: 12MP + 12MP
Front camera: 12MP
Battery: N/A
The iPhone 12 is powered by the A14 Bionic chipset – that's a chipset we've already seen confirmed for the iPad Air 4, and it's the world's first 5nm chipset. Apple says it'll be almost 40% more powerful than the A13 chipset in iPhone 11 range.
Apple is calling this the "fastest chip ever in a smartphone". That's a big claim, and it's one that we'll be sure to test when we get the iPhone 12 in for review.
You'll have the choice of either 64GB, 128GB and 256GB storage models – we'd recommend opting for one of the larger sizes, as 64GB isn't a lot of space on your phone, and there isn't microSD support here so you can't expand on that.
The phone also comes running iOS 14 out of the box, so you'll be able to enjoy all of the features that were introduced in last month's big software update.
Trackbacks and pingbacks
No trackback or pingback available for this article.